Thanksgiving and Black Friday recently ended, leaving everyone filled with excitement for this holiday season. Presents are being bought and are already being wrapped. As great as those bigger gifts are, there are some other items that need to be considered too. These items are stocking stuffers, the smaller gifts that are put inside stockings for Christmas.
Do not worry about giving away such small gifts, this is what they were made for. It is hard to know how much is enough and how much is too much. Just make it simple.
Do you have a relative or friend that is always dropping their phone and constantly worried about breaking it? If so buy this person a phone case to serve as protection for such a precious part of our daily lives.
A common gift that will allow your family or friends to choose their own presents is a giftcard. Do you know someone who is always drinking coffee or lattes? Give them a Starbucks or Dunkin Donuts giftcard to help them save a little money in their daily lives. Have a friend that loves music on the go? Make their day and put an iTunes or Google Play giftcard in their stocking.
The winter season brings dry, harsh weather which can unfortunately lead to a lot of dry skin. Include some lotion in the stocking to keep your friend or family member's skin well hydrated. Another stocking stuffer that will help keep their skin nourished and moisturized is aloe vera infused socks which are not only beneficial for your skin but cozy for cold weather. Chapped lips is also a common symptom of the cold and dry season. Put a package of chapsticks inside of your loved one's stocking. This can be chosen amongst brands such as Eos, Burt's Bees, Softlips, and Carmex which can all be found at local drugstores or Target.
A simple and easy to find gift for a stocking is a scarf. There are all kinds of scarves out there that provide different benefits. Whether it helps someone look fashionable or keeps their neck warm, the style of scarves can vary. Also, infinity scarves are quite popular right now and can be found in almost any clothing store.
Someone who is more into cosmetics would definitely love to see things such as nail polish, mascara, eyeliner, lipgloss, lipstick, etc. in their stocking. New cosmetics can help them establish a new look with the oncoming new year. Other accessories such as earrings, rings, necklaces, and other jewelry are small items that can easily be put in a stocking. A simple piece of jewelry will be fine, but there is also no need to buy anything too expensive. Inexpensive jewelry can be found at T.J.Maxx or Nordstrom Rack.  
Right after Christmas comes New Years and there is no better way to start fresh then to start with new everyday necessities. Another simple and appreciated stocking stuffer can be a hair brush, toothbrush, socks, or items you might use on a day-to-day basis. Overtime we all need these and sometimes we forget to replace these items so help your friend or relative by knocking these items off their shopping list.
Packs of gum in a stocking will not go unnoticed, gum is wanted at the most random of times and having new packages available will be great. Anything from Trident to Orbit is highly appreciated in daily life. This gift will go to good use.
An unnecessary but wonderful present to find in a stocking is candy. Something found all around is the plastic candy canes that are filled with all different kinds of candy. The assortments range from Reese's peanut butter cups, M&M's, and mini candy canes. These candy canes bring extra holiday spirit but for those who cannot find their favorite candy in the cane form then the candy wished for can be bought in boxes or other packagings.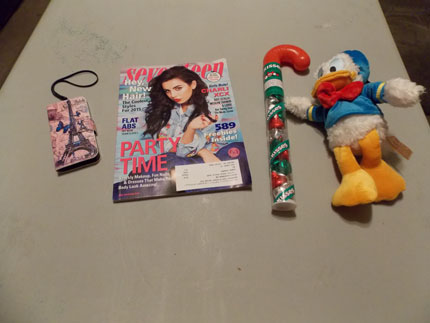 Lastly, ever need something small to cuddle with? A small or medium plush sized animal is the perfect gift for anyone who answers yes to that question. They are cute, affordable, and easily fit in the average stocking.
All of these stocking stuffer gifts are affordable and can easily be found in a wide range of stores. This Christmas make sure you fill your loved one's stocking right.