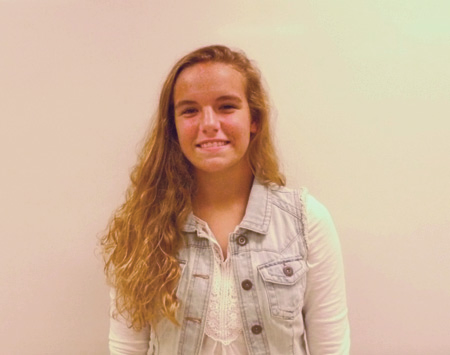 The Malden High School girls' soccer team would be incomplete without junior Felicia Lombardi. She is a leader by example, constantly running, fighting, and shooting the ball as hard as possible, looking for any chance she can get to score and win. Lombardi sees herself as just being a part of "a family" especially since her older sister, senior Alex Lombardi, is a captain on the team. She looks up to her sister Alex as a role model because she is a "good leader and always has a positive attitude," stated Lombardi. Even still, with or without her older sister, the team would still be considered family. 
Before Lombardi came to MHS, the girl's soccer team had not won a game in four years. During her freshman year, the team won their first match and it made "[her] feel a part of something bigger than just [an individual]," especially since it was against Somerville, a fellow Greater Boston League team.
She attributes her loyalty to the soccer team based on playing Malden Youth Soccer along with the majority of the team, which has made the team very close even before high school.
Lombardi plays for multiple teams throughout the year, but her main focus outside of MHS is her club team, Strikers F.C. Strikers has helped to better her touches on the ball, keep her in a soccer mindset, and constantly helps her to develop her skills and strive to improve on a daily basis.
Her coach, Rick Caceda, has also been a large inspiration in her soccer career. When Caceda took over the team, they had not won a single game in four years. Lombardi said that he encourages "having fun and [maintaining] a good team atmosphere." Along with that, he instilled team dinners every Friday night to bring the team closer. He "enjoys watching the girls have fun, not so much winning, and pushes the girls to play harder and with more heart," explained Caceda.
Throughout her soccer career, Lombardi has played every single position besides goalie, but her current position is striker. Lombardi mentioned, "As a striker [she has] one job and that is to put the ball in the net. Along with that, [a striker carries] the energy of everybody on the team." In a game against Lawrence this season, she scored a hat trick and was in on almost every single offensive play. Lombardi's first career goal as a Malden High student came in her freshman season and she commented that the adrenaline rush was like no other.
A future goal for Lombardi is to play soccer in college with her biggest aspiration being to play Division I soccer. "If [she] like[s] [the combination of the] college, team, coach, [she is] willing to play anywhere." The recruiting process is a very difficult and stressful thing to undergo, especially in during one's junior year of high school. Lombardi has considered careers in the medical field, law, or even writing.
Her goal for this season is to win the GBL championship, something no MHS girls soccer team has done, and make it to States. If the team continues playing the way they have been lately, Lombardi's goal is certainly attainable.