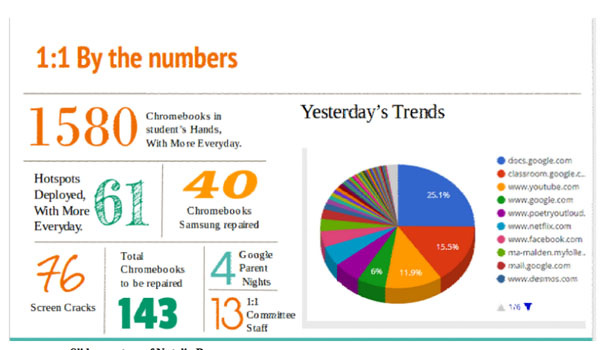 Just a little over a month ago, Chromebooks were rolled out to all Malden High School students as part of the Chromebook 1:1 Initiative. Freshmen, Juniors, and Seniors were new to the   program, with Sophomores returning this year with trial experience from their Freshmen year.
The Chromebook 1:1 Initiative began last year, when Sprint donated about 2000 Chromebooks to Malden High School. (More on the 1:1 Initiative here)
Students here have mixed views on the Chromebooks, and tend to criticize the laptops connectivity issues, due to the constant strain on the wifi. The majority also tend to prefer to do work on the Chromebooks, rather than in a notebook or on paper.
Natalia Brennan, who plays a large role in the 1:1 Initiative, said "We've managed to accomplish a lot in a year in a half," and "It's going to take time to become a 1:1 school." Already, a year into the program, Malden High School's students learning has been impacted greatly by the Chromebooks. Teachers are incorporating them more and more in the classroom, and for the students who didn't have laptops or a computer at home, it gives them a chance to use them for school work and for fun.
At the 1:1 Showcase on December 3, 2015, there was a particular slide that showed the most frequently visited websites, for December 2.  Google Docs, Google Classroom, and Youtube were the top three. Following were, Google, Poetry Out Loud, Netflix, and Facebook. The data collected here, proves just how much both school work and personal use, are incorporated with Chromebooks.
The slide also shows the issues with Chromebooks, including the fact 40 Chromebooks were repaired, 143 need to be repaired, and 76 screens have cracked.