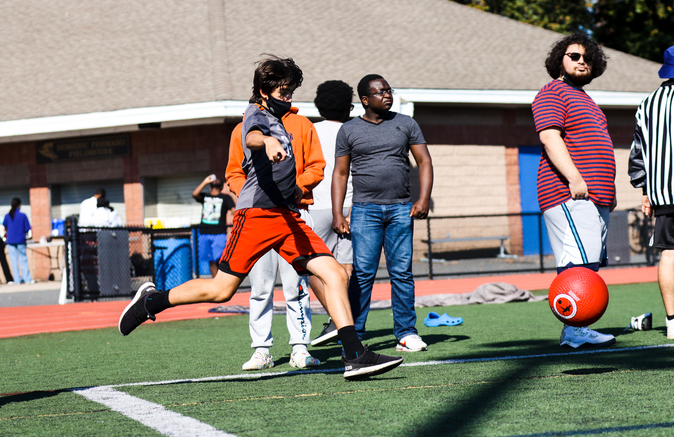 Thanks to the Malden Recreation and Malden Teen Enrichment Center, Malden teens were able to enjoy a community kickball event at MacDonald Stadium on October 8th. Students played multiple games from 12:30 to around 2:00 that afternoon. They were offered a variety of food, including chips, hot dogs and juice.
Cathy MacMullin, the MTEC Coordinator, said that since "it was gonna be a beautiful day and the kids got out of school early," they wanted to host something at the stadium alongside Malden Recreation. She and Joe Levine from Malden Recreation agreed on playing kickball because almost anyone could join in on that. 
Jay Ortiz, a Youth Activities Leader, added that it was great to be outside since he knows "a lot of the kids really like to do physical activity." MacMullin also agreed that she was excited "just to be outdoors," since they are always inside the Teen Center. MacMullin feels that as long as everyone was talking and outside, they would have a great time. 
Levine also mentioned that it was nice for them "to get fresh air and a little exercise." He expressed that they all seemed to be having fun, "they're running around, they're laughing, they're chasing each other." Ortiz said that for whatever reason people came for, "food, to sit down, or to play," as long as they were enjoying themselves then they've done a good job.
Because of the half day on October 8th, Ortiz felt it'd be great for the event to be held that day so that they'd have time to have fun before doing whatever they need to get done, such as school or work. 
Many students came to the event like Meryem Hakkaoui, a junior who has been working with the Teen Center for two years through the Mayor's Youth Employment Program, so she "[knows] everyone who works here." She felt it was a nice way to "bring the community together." Alan Feng, a sophomore, said that "[they] felt great having the event", and he is thankful that "people gave this opportunity to [them] to play games and hang outside."
Feng and freshman Sabrina Abu Rubieh did advertising for this event, both are happy with the turn out. Feng thought that it was a great way to give people a thing to do, instead of them heading home early. Abu Rubieh felt that she "had fun, and the event [was] great." She felt it was a great way to hang out with her friends.
Among the adults who came, one was the Mayor of Malden, Gary Christenson. He had no trouble at all getting on the field with the students and having fun with them. He decided to come to show support for the Teen Enrichment Center and Recreation Department. "They do so much for our youth," so he always tries his best to show his support.
He enjoyed seeing the students outside participating in an easy sport together. He felt it was "great to see [the] students come together to have a great time." He could tell by the small talk all around that students were enjoying their time and were getting to know each other better through this event. He was especially happy that they got to "have a stress-free day."
As of right now the Teen Center is now open and located in the Senior Center at 7 Washington St, Malden, MA 02148. Consider stopping by some time with your friends for a great experience, just like this event.