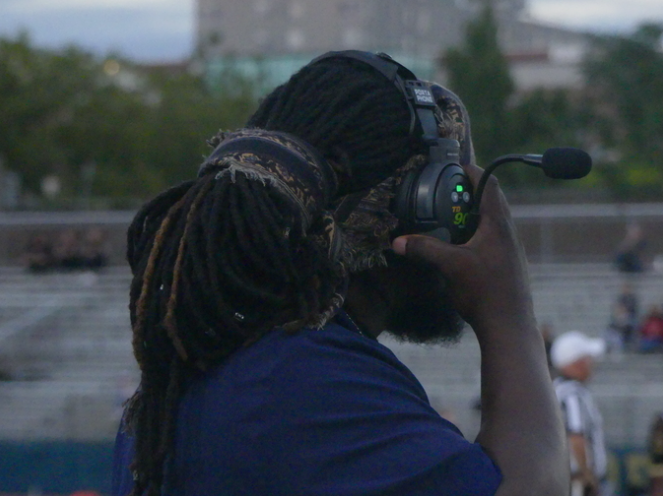 On September 16th, 2021, Malden High School kicked off its 2021 Football Season against Haverhill's Whittier Tech. This would mark Malden's first football game in front of a full home crowd since before Thanksgiving of 2019. With a new head coach in Witche Exilhomme and a new season, Malden was set to face Whittier.
The opening kickoff by Whittier went out of bounds towards their sideline which caused a penalty and Malden got the ball on their 40-yard line. After a back-to-back run play and a pass on third down, Senior Samuel Solorzano punted the ball a good 50 yards down the field to start Whittier's first offensive drive around their 10-yard line. Shortly after a sack by Senior Justin Desimone, Whittier was forced to punt in their own endzone having Malden start their drive with great field position on Whittier's 41-yard line.
With Malden's drive looking bleak, Senior Jordan Rodriguez scrambled to convert a 3rd and 8 into a first down. Nearing the end of the first, Rodgriguez's pass was deflected into the air and intercepted by Whittier to end the first quarter with a score of 0-0. Whittier opened up the second quarter with a 16 yard run to their running back which would help them push the ball all the way down the field and score the game's first points with a short passing touchdown. The two-point try would end up successful making the score 0-8.
On Malden's next drive they would struggle with untimely penalties including holdings by the offensive line and an ineligible man downfield call which forced them to punt the ball to Whittier's 27-yard line. The Malden defense was getting attacked over the middle and looked to get a stop on third down but a scramble of 12 yards by their QB got them a first down. A few plays later, Malden allowed a 25-yard run which led to another Whittier touchdown, although this time, the two-point try was unsuccessful making the score 0-14.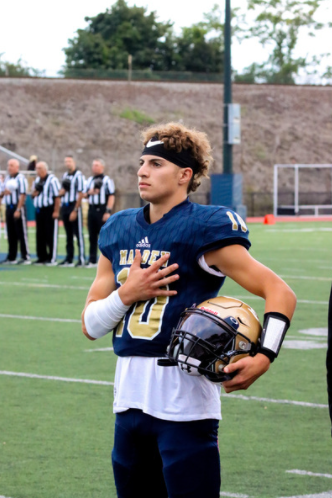 Malden needed a quick three-minute drive before the end of the first half. Their drive was quite fast with the first play being a pass that was picked off by Whittier, but the Golden Tornadoes responded immediately with an interception of their own. The possession now started with 2:42 left on the clock deep in Malden's territory, but they were moving the ball with precise passes such as the screen pass caught by senior Oswaldo Rodriguez for 20 yards and power runs including one by Quarterback Jordan Rodriguez on 3rd down for a gain of eight yards.
Shortly following the run for a first down, Rodriguez carried the ball again but what followed was a recurring theme for Malden across the whole game, injuries. Around five of Malden's players were injured in the game with Rodriguez's looking like a rib injury. Luckily the team still had their quarterback from last year who is now a Senior, Shawn Bartholomew, so they still had someone with experience under center.
The first few plays with Bartholomew were running plays until he hit Senior Lyden Lewis for 15 yards with 0:46 left on the clock. Unfortunately, Malden's efforts went without a reward with the Whittier defense stopping them dead in the tracks and bringing an end to the first half with a score of 0-14.
Being down two possessions going into the second half of any football game is difficult, but not impossible. After receiving the third quarter kickoff, Whittier continued their attack on the Malden defense with a screen pass that was good for 50 yards. However, the momentum created by this play was put to poor use after Malden forced them to punt to get the ball at their 23-yard line. With the opportunity to only have a one possession deficit, Malden's offense needed to score immediately to still have a chance in the game. The goal looked to be made true with a deep ball to Lewis down the sideline, but the pass was ruled incomplete and the drive ended in a punt.
Hope was bleak, especially after the falter of the previous drive, and those suspensions were made true after Whittier got down the field and scored another touchdown with the two-point attempt failing to make the game 0-20. More improbable comebacks have happened, but now Malden needed a miracle to even have a shot in winning this game. The plays that the next few minutes fostered went against everything Malden needed. Quarterback Shawn Bartholomew threw an interception with Whittier getting the ball at Malden's 42-yard line. The next play was a 42-yard rushing touchdown by their running back and a successful two-point conversion to now make the game 0-28 going into the fourth quarter.
The fourth quarter was filled with a plentiful amount of runs by Whittier to chew the clock and an aggressive approach by Malden to try and get points on the board before time expired. This led to another Whittier interception and looked to be a shutout in Malden's season opener, but the Malden defense never quit. They bent but didn't break to stop Whittier on fourth down. With 6:27 left on the clock, Coach Exilhomme's offense took the field one last time to grab points.
Malden's offense was moving the ball downfield with a balanced mix of runs matched by the play action pass. With 1:27 left in the game, Coach Exilhomme's team scored his first touchdown as head coach with the addition of the extra point sailing through the uprights and ending the shutout. Whittier would kneel the clock out to end Malden's season opener with a final score of 7-28.
Malden's next home game will be on October 1st with concessions being sold at the game to help benefit the Class of 2022.
Senior Linebacker Dataken byn McGuffie shortly after tackling a Whittier player. Photo taken by Brandon Wong.

From left to right; Seniors Worldy Raphael and Justin Desimone along with Junior Zakariah Pan engage with Whittier offensive lineman. Photo taken by Brandon Wong.

Senior Shawn Bartholomew at wide receiver working against a Whittier cornerback. Photo taken by Chaimaa Assli.

Senior Defensive Lineman Justin Desimone lining up to rush the quarterback against Whittier's offensive lineman. Photo taken by Chaimaa Assli.