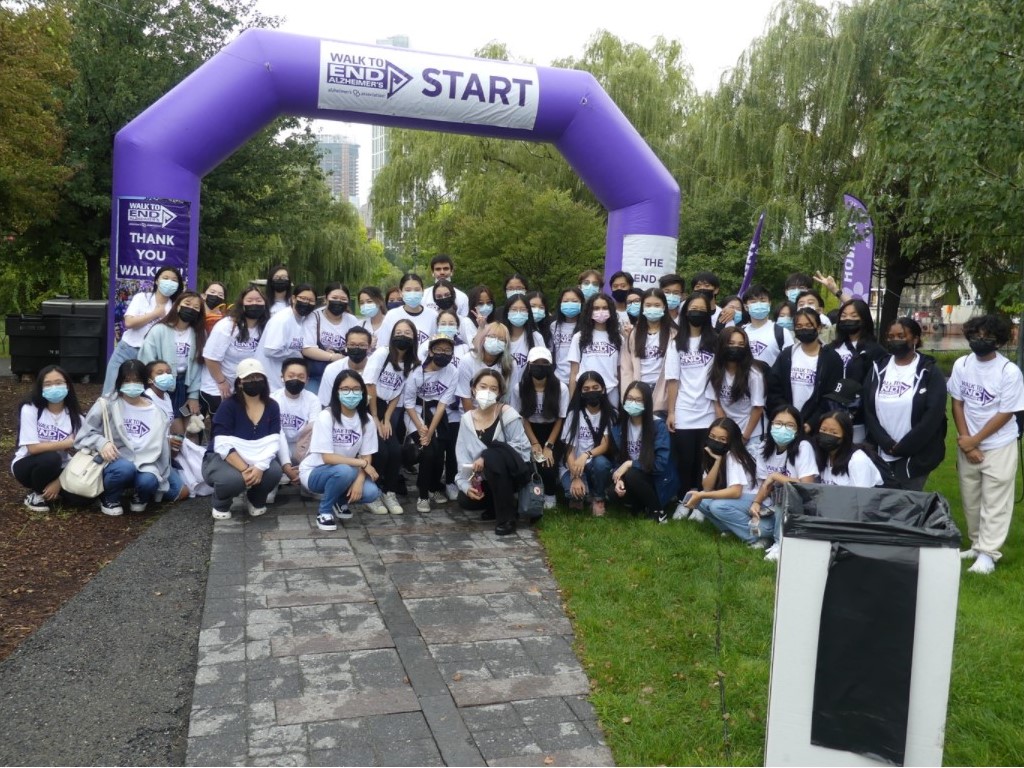 Alzheimer's is a form of dementia that affects the memory, thinking and behavior of a person. Eventually, the symptoms grow so severe it starts to affect the daily life of the person living with it. On average, a person with Alzheimer's can live from four to eight years. Currently, there is no cure for Alzheimer's. Every year it affects about three million people in the US.
On Sunday, September 26th, Key Club coordinated with the Alzheimer's association so members of the club could attend. Vice president Sharon Pan found who to contact online and got in touch with the association.
President of Key Club Maggie Yick thought this event would be good for high school students to learn more about Alzheimer's and to see how it affects a lot of people. She said it is important for the younger generation to "support their battle because it's tough."
Yick loved attending this event and thought it was "active and lively." She liked that all the volunteers were cheering on the people who have loved ones battling the illness. Yick said "it [is] moral support and [she believes] everyone should show love and support in society, this world needs a lot more light than dark." Yick believed it was very successful because about 70 Key Club volunteers showed up to the event. Everything went smoothly because all the volunteers were having fun and doing the job that was given to them. She thinks that the volunteers should be able to have fun while working and she wants "members to feel comfortable and happy [with] no stress." Yick has been attending this event for a while and hopes that Key Club will continue to volunteer there.
Pan also thought that the event was pretty successful. She said that she would definitely attend again since this is an annual event Key Club goes to. In the future, Pan hopes that there would be more organization for the roles of the members and hopes to encourage more cooperation overall. 
Treasurer Allison Yu, thought that the walk represented a noble cause and it was good for "raising awareness and giving support on the effects of Alzheimer's in our community." To Yu the event was pleasant and she thought "it was empowering to see so many people participate and show their support." Yu said that she is "looking forward to what events and memories are in store for Key Club this year."
There was a great turnout rate for the event. So many people from all over and of all ages came to support this cause whether they had loved ones that were affected by Alzheimer's or not. Attendees loved the event and were very impressed by it. Some said that they would definitely come again.
Grace Sullivan, who came with her father to the walk, came to support her grandmother Joan Ram who suffers from Alzheimer's. This is Sullivan's fifth time attending with her family and said that it is a "really fun event."
Alzheimer's affects millions of people every year. Photo taken by Chaimaa Assli

Key club volunteers Devi Thapa, Allison Peguero, Shayla Vu, and Kristen Vu are all excited for the walk. Photo taken by Chaimaa Assli

Volunteers cheer for the people doing the walk. Photo taken by Chaimaa Assli

Victoria Craun, a volunteer on the planning committee, has been participating in the event for the past ten years. Photo taken by Chaimaa Assli

Many people attended the event to support this cause. Photo taken by Chaimaa Assli

People walking for Alzheimer's. Photo taken by Chaimaa Assli
Senior manager for the Greater Boston Locked-In Alzheimer's Melissa Shirtcliss helps organize the events and recruit teams helping with fundraising as well. She has been with the organization for seven years but this is her eighth walk with them. Shirtcliss is "so appreciative of our supporters, our walkers." They have reached about 75% of their $1.2 million goal and she is positive that they will reach their goal with all the supporters attending.
Another advocate for this cause is Tracy Lungalow whose father is currently living with Alzheimer's. She was also a volunteer and her job was to greet and welcome everyone. She said that within minority communities there needs to be more advertising and more education on Alzheimer's because it is "highly important."
Kimberly Marasca joined the Greater Boston walk and Alzheimer's Committee in 2020 when it was virtual because of COVID-19 "so it was a little different." What made Marasca want to volunteer was her mother in law who passed away due to Alzheimer's and this was her family's eleventh walk. She thought it was great that Key Club came to volunteer.
Victoria Craun was also on the planning committee and a volunteer and she started participating in the walk ten years ago and she has been a part of the planning committee for the past three years. When Craun was in college, she joined a sorority that was connected to the Alzheimer's association because at the time her grandfather was fighting Alzheimer's. She thought that there was a great turnout this year and that it went "really well."
Key Club members thought that overall the event was fun and well organized. They plan on coming again next year. Yick thinks that events like these are good for members of Key Club because "high school is the time for you to learn and grow to discover what type of person you are."
For more information on Alzheimer's click here.