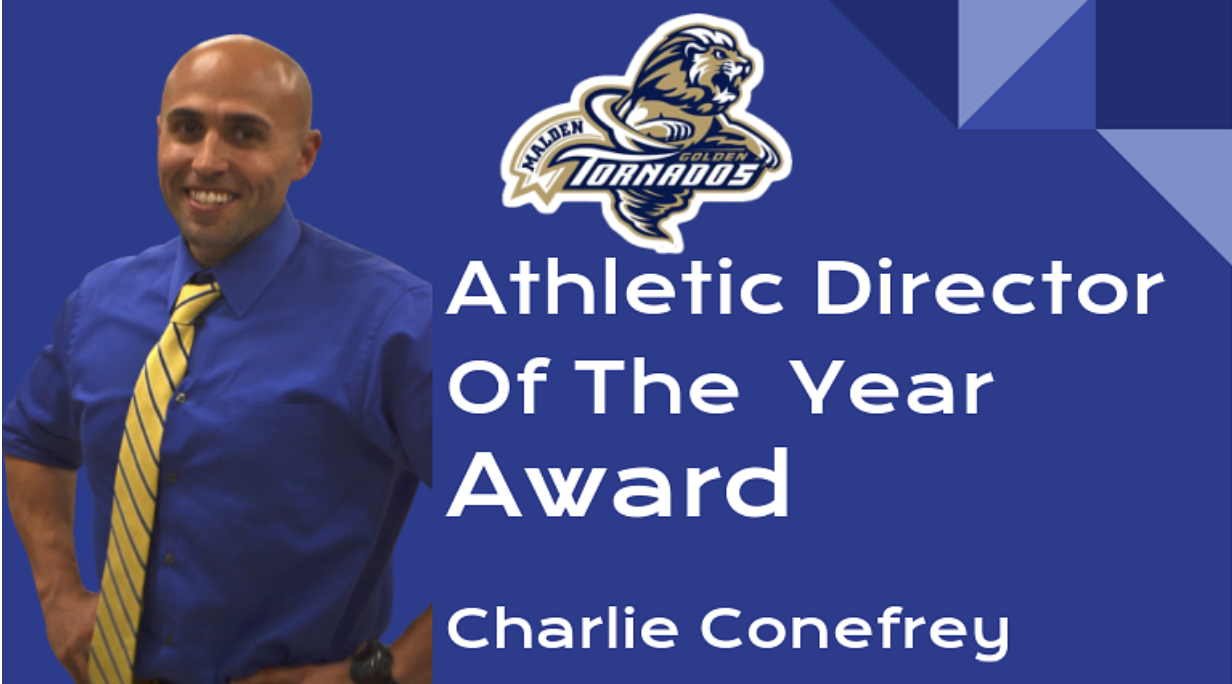 Charlie Conefrey, a former physical education teacher at Malden High School and a Massachusetts Interscholastic Athletic Association [MIAA] board chair member, has been selected as The District Five Athletic Director of The Year. This award is given to athletic directors who have been nominated by their respective district athletic directors' associations.
The award recognizes athletic administrators from across the state that have excelled in the profession of being an Athletic Director.
¨I was humbled and honored to be recognized statewide by the Massachusetts Secondary Schools Athletic Directors Association. Each year an athletic director is chosen for their contributions to the field of high school athletics at the local, district and state levels", stated Conefrey.
To celebrate the award, the Massachusetts Secondary Schools Athletic Directors Association (MSSADA) hosts an annual banquet dinner in Hyannis to recognize award winners. Conefrey attended with his wife and two friends, former longtime Malden Public Schools educator and MHS Hall of Fame coach, Mr. Steven Rubin and his wife Frida.
In 2016, Conefrey became the athletic director at Malden High School. As an athletic director, Confrey's job is to oversee District Five which includes four conferences for the state association (MIAA): the Greater Boston League, the Commonwealth Athletic Conference, the Cape Ann League and the Northeastern Conference." On top of those duties he also sits on the Massachusetts Interscholastic Athletic Association Board of Directors.
"We oversee the entire state, all 377 member schools", stated Conefrey, referring to the MIAA.
Being an athletic director gives Confrey responsibilities such as hiring and evaluating coaches and overseeing over 30 different sports teams at Malden High School.
"His work ethic is amazing; I don't know how [he does] it. Being an Athletic Director is hard. You are basically working 24/7 and sports being all year long makes the job really difficult," stated Jeanne Marquardo, the secretary for the athletic department in Malden.
"He had it coming, the way he has worked really hard to get to where he is now, and that award shows his hard work paying off. He deserves the title of Athletic Director of The Year,¨ stated Marquardo.
She described herself as ¨his administrator, sort of like a nagging wife to him."
"I do things like sell tickets to games, reschedule games to other dates, and make sure everything is smoothly running," Marquado said.
Conefrey stated, "I owe where I am today to the teachers and coaches who taught me that working hard and giving maximal effort in everything that you do on a daily basis is all that counts. Working hard is a decision, a decision that everyone can make."