With school pride seen in every nook and cranny of Malden High, spirit week is consistently the school event with the most student participation. Starting with Culture Day and ending with Wacky Tacky day, students spent November 16th through November 23rd following dress-up prompts to earn points for the Pep Rally and show their spirit. Teachers counted how many students participated at 8am during first period and sent the list to Paul Marques, advisor of National Honor Society. The year with the highest participation would earn the most points for the Pep Rally competitions. NHS plans spirit week and Pep Rally annually, so there were high expectations for this year.
The first day was Culture Day, where students simply dressed with something pertaining to their culture. The prompt was open-ended and students could follow it as they wished. Some students wore formal attire with cultural significance, while others added flags of their culture to their accessories. Junior Marianne "Mari" Rivadeniera concluded that "it was nice to see all different kinds of backgrounds of the students."
Anything but a Bag Day has been popular across the country for the past year and a half. Students are instructed to carry their books and belongings in a non-traditional sense. Shopping carts, guitar cases, shipping boxes, and a myriad of other containers flooded the halls. One teacher exclaimed, "I had forgotten it was spirit week! One of my students came in carrying the largest pot I have ever seen; I was so confused." They later noted that everyone seemed to be "having a lot of fun," and was glad to see the excitement among students.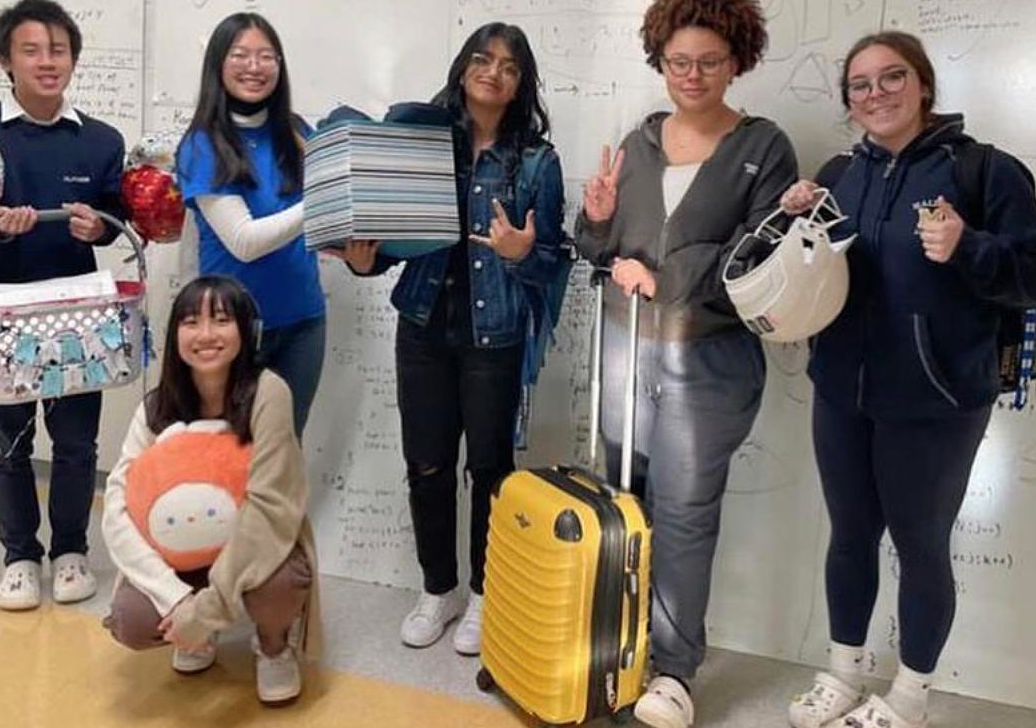 As a repeat of last year, the third day was Twin Day. Students dressed identically to another student, or, with permission, a teacher. Some even took it a step further and matched as groups. Rivadeneira matched with both fellow junior Emma Spignese-Smolinsky and band teacher Ms. Foley.
Photos submitted by Marianne Rivadeneira.
As spirit week carried over past the weekend, students returned on Monday for Pajama Day. Everyone participating wore sleepwear to school that day, compared to their usual semi-casual attire. "My favorite day was Pajama Day, because I wear pajamas all the time anyway," sophomore Natalie Keating deadpanned.
Tuesday was the long-awaited Pep Rally, and also Blue and Gold Day. The epitome of school spirit; students were instructed to dress in Malden's colors. After third period, all students headed down to the gymnasium for Pep Rally events.
Despite numbers not counting for the Pep Rally competitions, one more day of spirit week was hosted on the half-day on Wednesday: Wacky Tacky day. Students wore non-conventional clothes and clothing combinations, such as backwards hoodies, clashing color combinations, and aggressively-bright accessories. With a goal in mind to cause an eye-sore, many students created the worst best outfits.
Despite some spirit week theme options being left out, the general consensus was in favor of the days chosen. There were some changes from the themes of years past., so some students have ideas for what they would like to see next year. Keating joked that the only change she would make next year is to include an "emo day." Rivadeneira added, "I would love to have an Adam Sandler day or Bikers v. Surfers."
There was plenty of work that went on behind the scenes of spirit week: NHS members chose which themes to include or exclude, prepared for Pep Rally, determined spirit teams, and organized everything.
Despite spirit week and Pep Rally ending, school spirit is always in the air, and this time next year we shall see its return.