This holiday season, Malden High School's Science National Honors Society (SNHS) hopes to help others in their time of need by hosting a toy drive.
A small group of SNHS students are hosting the Share-A-Toy Donation Drive. The drive is running from November 12th to December 10th. All donations will go to one hospital, which is still being decided on.
Students have the ability to just drop toys into any of the decorated donation boxes around the school. These boxes can be found outside the Main Office, Jenkins House Office, the auditorium, and the gym.
This year all the SNHS students were split into groups each led by an officer. The group hosting the Share-A-Toy Donation Drive is led by Chaimaa Assli, Secretary of SNHS and Editor-in-Chief of The Blue and Gold. This group happens to be in charge of the hospital visit and the petting zoo.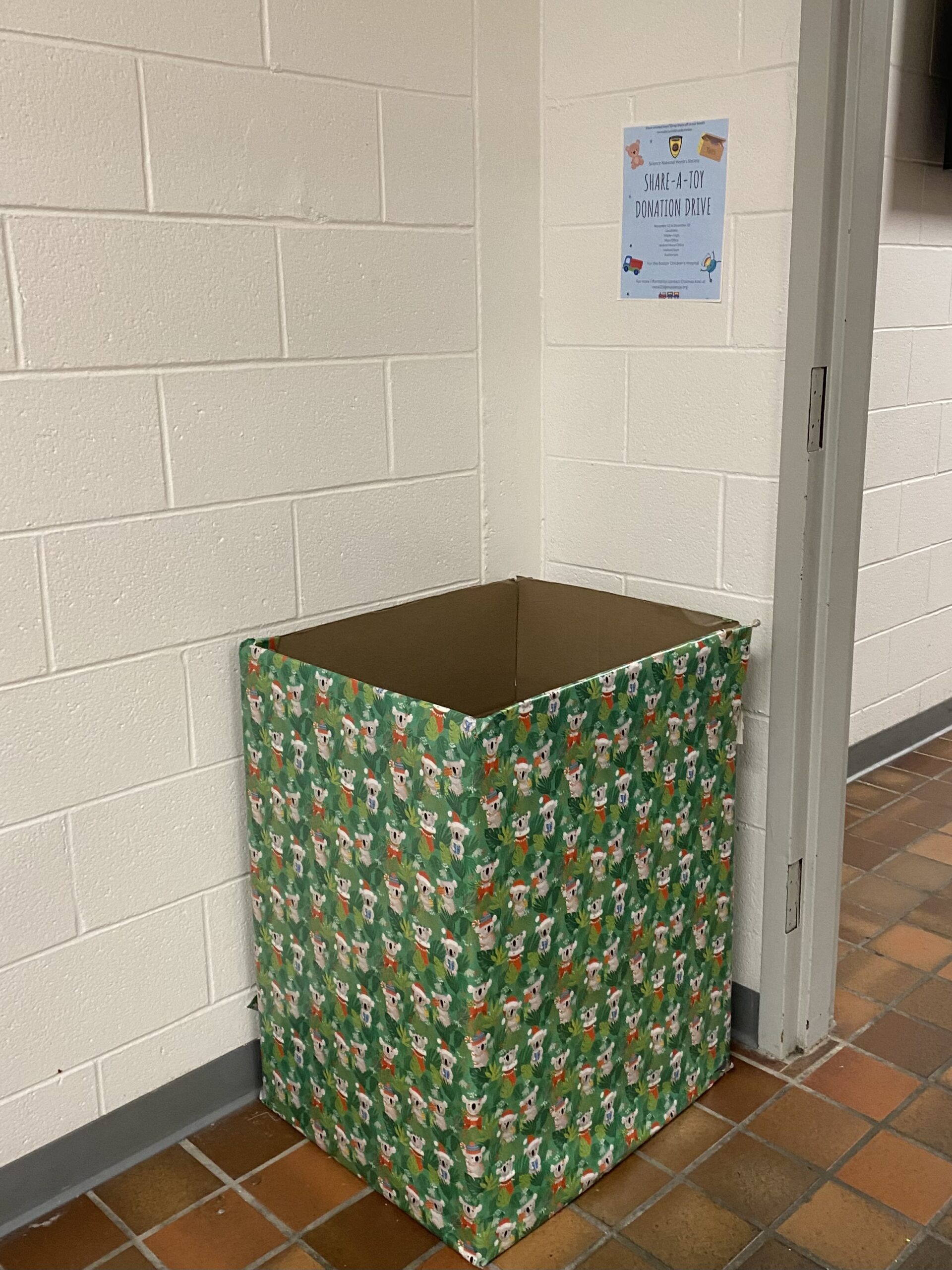 Since the plan was to have the hospital visit in December, the idea to host a toy drive alongside it emerged. SNHS Advisor Katherine Haskell explained that many students in SNHS are interested in pursuing the medical field, so naturally "many of them were interested in partnering with hospitals for volunteering this year."
Which of course led to the development of the toy drive idea as the perfect addition to their plan of visiting sick children. Haskell hopes that this event sends the message that science can help people way beyond just a classroom setting.
She also hopes that this event will help to "benefit our community in a positive way and also give our students an opportunity to spend some time in a hospital setting."
Ngan Nguyen, Treasurer of SNHS, said that she hoped this event would "promote a positive environment for them."
"We understand that not everyone has that type of privilege, so we went to send a message of giving back to others," Edmond Chen, Historian of SNHS explained.
But the main goal is of course, as Chen explained, is to donate as many toys as they can possibly get.
As mentioned earlier, the place of donation has not yet been decided. The students are still in discussion with a handful of hospitals to pick the one that would be the most convenient for both parties.
Though not finally decided on, Chen explained that the SNHS members and officers are meeting often to decide which hospital to donate to. They anticipate coming to an agreement soon.
When it came to planning this event Haskell commented that she did not have much participation in it. "The SNHS students are incredible and self-sufficient. I am already amazed at how much they accomplish on their own without needing me to help all that much," Haskell said.
The event itself is so great in the way it "involves kids who need and deserve some extra help this holiday season," Haskell explained.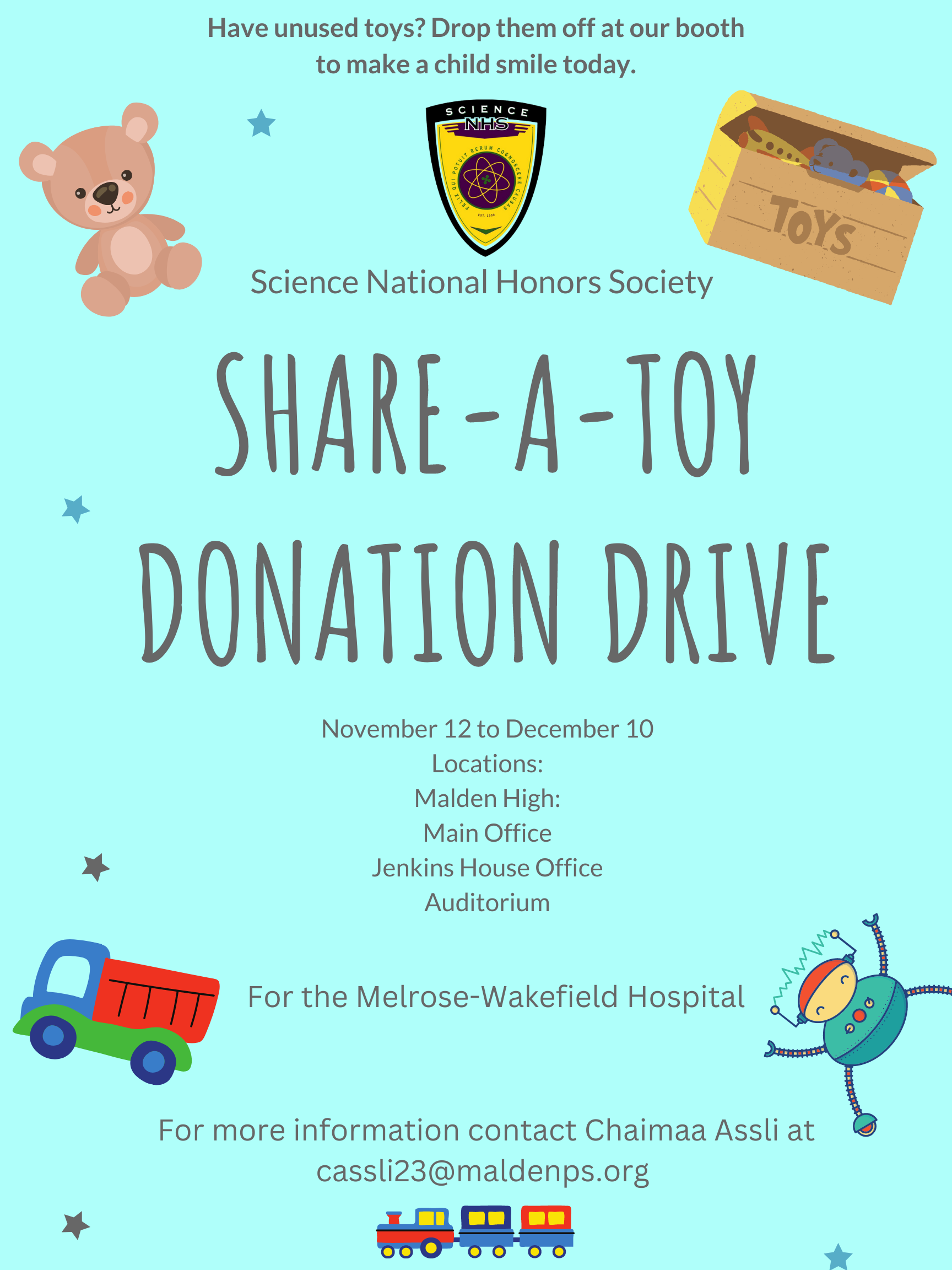 "It's beneficial to both the donor and recipient. We get to donate toys instead of just throwing them away; it's a chance for us to understand that the things given to us in life shouldn't be taken for granted. If we can't help the children physically we can at least help them to feel good and happier," Nguyen explained.
Haskell went on to say, "I love that our own Malden High students came up with it all on their own. I always tell people that our students here are incredible but this type of event really highlights it for the community."
Nguyen hopes that this event will spread the message that "when an opportunity comes up for you to provide aid you should do it because there's nothing to lose."
The event is still running at MHS for a number of days, so feel free to drop a toy in any of the boxes around the school to make someone smile this holiday season!