With the Thanksgiving season passing, the Science National Honors Society (SNHS) decided to continue a yearly tradition that started in 2020.
The Science National Honor Society is an organization within Malden High School that organizes events to benefit the community and fundraise. It is "a safe environment that fosters our members' interests in the scientific field," said Historian Edmond Chen. Some prior events they have held during this school year were a bike path clean-up and a bake sale. In addition to Chen, other officers are President Saura Rathore, Vice President Rachel Lin, Treasurer Ngan Nguyen, and Secretary Chaimaa Assli, who is also an editor-in-chief of The Blue and Gold.
Former officers first started the idea for creating teacher appreciation cards in previous years. Historian Edmond Chen noted that their vision of making Thanksgiving cards was based on that. He stated that it was, "to honor the MHS staff who work so diligently for our sake." He then added, "What better time to do that [than] during the time of year [when] people are meant to show their gratitude to those who they value?"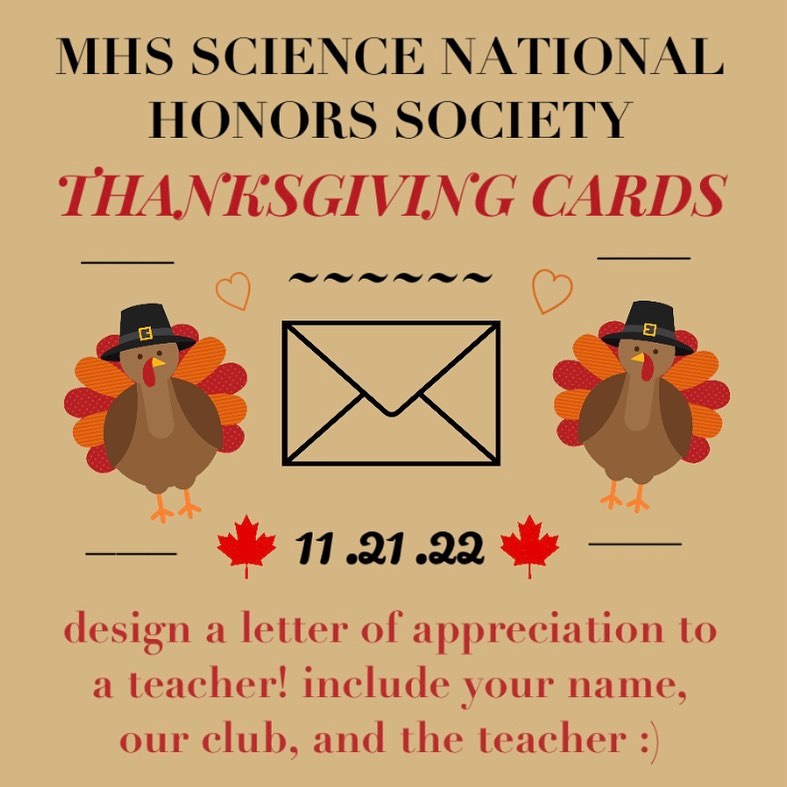 Members of SNHS were tasked with making a minimum of five to ten cards. With more than 400 cards to complete, members worked diligently to meet the November 21st deadline. Those creating cards were not assigned to a teacher or staff and could create cards for a specific person. After they fulfilled the required number of cards, members were allowed to make cards for anybody else.
After members finished the cards, the club officers organized cards by the names of staff members and delivered them afterward.
Treasurer Ngan Nguyen expressed, "[It is] awesome to know how even a card can positively impact someone's life because you never know what someone is going through."
A message Nguyen perceived from this event was that "it's always important to be grateful and appreciate the people that have helped you in some way or another." Nguyen thought that "being able to give back to [the people] as a club makes the event extra special." She added that "we're all working together to make sure the teachers/faculty members understand how important they are to us."
In addition to Thanksgiving cards, the SNHS will host a toy drive for the upcoming holiday break. Chen said they hope to "improve the lives of kids" by collecting toys and distributing them to those "spending their Christmas in hospitals." Their goal, like this event, is to "give back to others."
Chen expressed that after witnessing the event, he felt "really touched." It meant a lot to him when he thought about its impact on the staff. He added that he felt proud to be a part of the organization as an officer and hopes "we continue to make a difference together." Chen finally stated that "this event is a reminder of what I am thankful for during this time of year."
Nguyen concluded that she was glad to work with members of the club, including advisor Kate Haskell, to make this event possible.