All photos by Lily Nguyen.
Malden High's clubs and societies have found bake sales to be a successful means of fundraising and efficient at organizing and promoting. With this in mind, members of the Science National Honors Society (SNHS) collaborated to host one after school.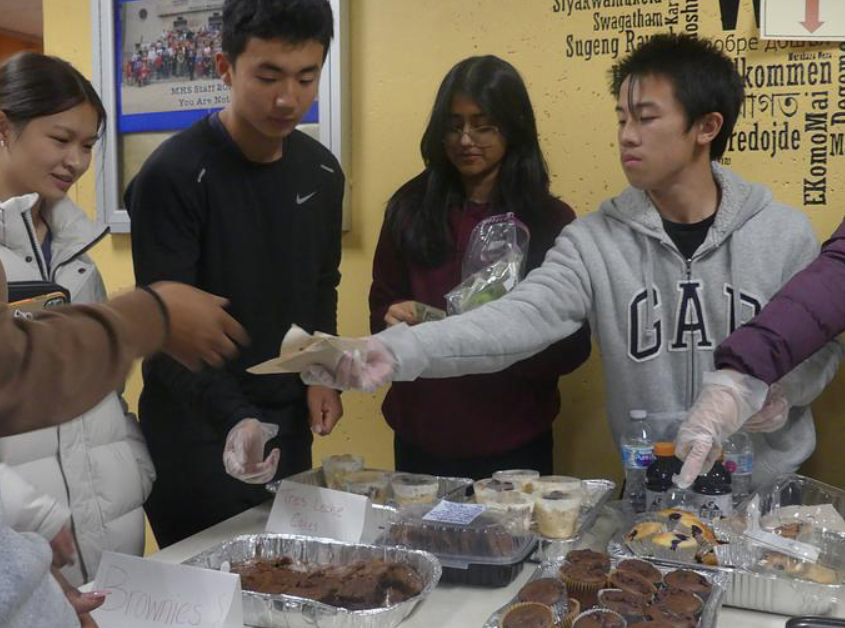 Held on November 14th outside the main office, SNHS members baked and sold various treats--cake pops, cupcakes, Among Us themed cookies, brownies, tres leches cups, and more--for students and staff to enjoy. Prices ranged from one dollar each to four dollars for five treats, which was well received by the many people who flocked to the bake sale table. 
SNHS president Saura Rathore and historian Edmond Chen emphasized how the proceeds of the bake sale will go to funding the society. It will "go towards future events that the officers have planned for the society and our members' supplies"—cords, stoles, and certificates"for the induction and graduation ceremonies by the end of the year," Chen said. He emphasized how the society "needs to raise a lot of money this school year because we have a lot planned for our members and community that requires initial funding."
As the president with responsibilities that include organizing events and hosting fundraisers, Rathore considered that with the events planned, "our $20 dues collected from each of the members at the beginning of the year was not enough to cover all of these expenses, which is why we decided that we will need to organize fundraisers throughout the year to not experience issues in budgeting when handling them."
But with this in mind, Chen also felt that the bake sale would be successful both in raising money for society and providing members with a bonding experience. With it being early in the year, "our new officers and members are contributing to this event, and baking was a way for us to bond and become closer. SNHS may be focused on service, integrity, and academics, but we also like seeing our members have fun."
Left to right: The display of baked goods at the SNHS bake sale; Chen explains the assortment of treats to potential customers.
Among the large crowd gathered around the bake sale table, an anonymous student expressed, "I'm someone who likes sweet things, so I always get something at the bake sales… I got a cake pop, and it was so good and worth the money." 
The bake sale concluded successfully as many treats sold out within minutes into tens of students' hands as they flooded out of the school upon dismissal. SNHS hopes this will foreshadow more successful outcomes with their upcoming events, which include a toy drive and a miracle berry experiment.