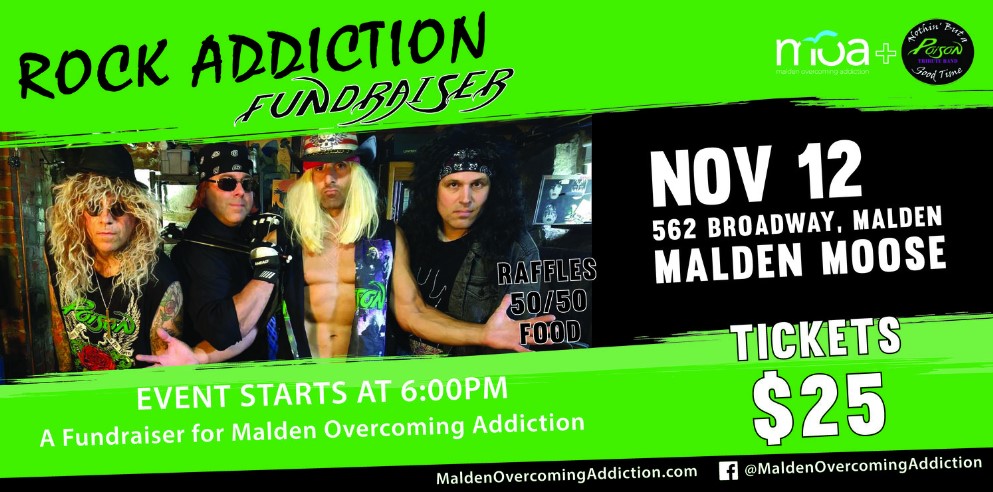 Malden Overcoming Addiction (MOA) hosted their annual "Rock Addiction" Fundraiser that was a night to remember! Members of the community gathered at Malden Moose on 562 Broadway November 12th for a fun night with many activities.
Tickets were $25, and people of all ages could attend the event. Kids were welcome, and even the Mayor of Malden, Gary Christenson was there. The attendees were treated to live music, food, raffle prizes, and a speaker portion. The speaker portion had three individuals who went in and spoke about their recovery stories and how they were helped through MOA.
The MOA fundraiser helped raise money for the organization, and, in turn, towards helping people in Malden who struggle with substance use disorders.
MOA President Paul Hammersley mentioned that "these individuals came to us when they needed help; we helped them [become sober], and they share their [recovery] stories [now]." Their stories have highlighted the MOA's work and the support they give.
MOA is a self-sufficient organization, meaning they raise money through fundraisers and the few grants they receive. They run two fundraisers a year; one of them is a comedy night in May. The other, "Rock Addiction," is generally run in November, where they bring in a band called "Nothin' But a Good Time," a Poison tribute band from the '80s.
One of many things that MOA also does that many may recognize is "Stop the Stigma" day, a day in March when MOA goes to schools across Malden and distributes blue ribbons for students and teachers to wear in support of stopping the stigma associated with addiction.
When asked why "Rock Addiction," was rock-themed, Hammersley replied that it was "probably [from] myself as I'm a music guy, I even got on stage and sang with the band…the wording works too. [It is] a 'Rock Addiction', [and] we want to kinda 'knock it out.'"
Unfortunately, Malden has had 79 overdoses and seven fatalities since last January. Hammersley emphasizes that "we do all the work we can to help our community, just to be as best we can."
This event ended up raising $3,000 for MOA, and Hammersley noted that the event was a success with a lot of community members and the recovery community there. "[It was a] good night had by all…everyone had a great time!"