All photos taken by Ace Showstead.
The D&D Club is a fairly new club at Malden High School, which started this fall. D&D, also known as Dungeons & Dragons, is a type of mythological tabletop roleplaying game. The players get to choose the character they want to portray themselves as, typically a character from a fantasy world. The students in D&D Club can connect with each other through the adventures they have together.
Murphy Page, the club advisor, said that they started getting into D&D because of their friends' interests in the game. They stated that they had played the game and other tabletop role-playing games for well over ten years. Page enjoys interacting with the members of the club, and even is running one of the current games: "Right now I'm running a game for four students, and it is so much fun—they have such great characters and ideas."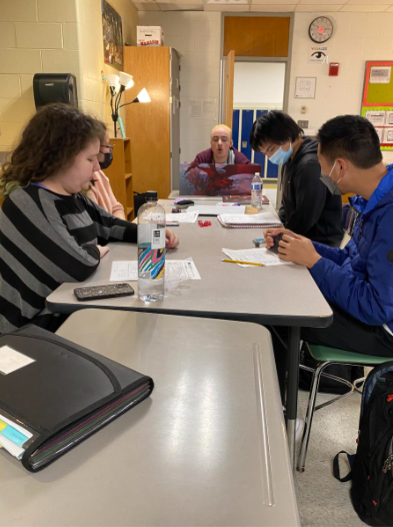 In the club, there can be multiple games going on at once. In each group, there is a Dungeon Master, who is in charge of the game and makes the rules. If there is too large of a group, there could be chaos. There is not much chaos between the people in the club, though. Ruth Samson, a freshman at MHS and past member of the club, said that "the community of the club was awesome. Everyone got along and respected each other."
Although D&D may seem like a chill and relaxed game, things can still get intense. People who are more invested in the game will definitely take things more seriously.
Members of the club invested in their game of D&D.
"D&D is a way to get to know people in a silly and funny way, but don't be fooled. D&D can be very serious, especially when the Dungeon Master is mad," Samson said.
D&D is not for everyone, but the people who play it seem to have fun. "To me, D&D is collaborative storytelling. The Dungeon Master is like the narrator in a way, but what happens depends entirely on what the players decide to do. It's a very creative activity for everyone involved," Page expressed.
Members of the club invested in their game of D&D.
Everyone can have their own opinion on D&D, but, undoubtedly, the game brings people together and creates closer bonds. The world of fantasy awaits.